Emigration and expatriation in today's globalized world are two societal trends. More than a trend, we can even speak of a real phenomenon : according to the annual Expat Insider study, the number of expatriates in the world is estimated at around 56-57 million, of which 56% are women and 44% men. Emigration is also a trend in Switzerland, with figures rising every year and a Swiss diaspora reaching 760,200 people in 2018.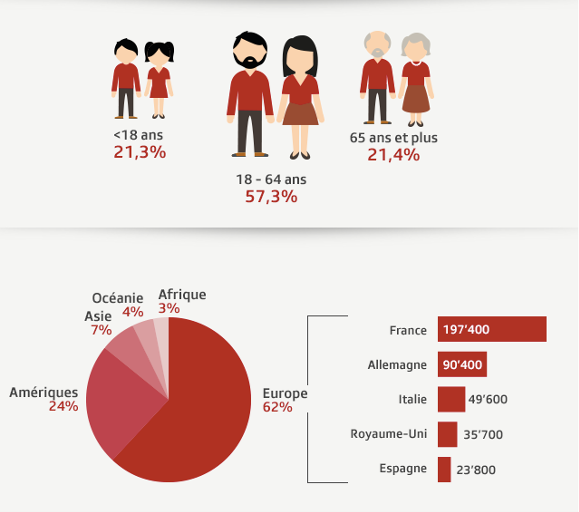 Source of the infographics: https://www.eda.admin.ch/eda/en/fdfa/living-abroad/fifth-switzerland/statistics.html
The study tells us that "worldwide, when it comes time to pack their bags to leave, a third of expatriates imagine that it is "for life, if possible". (…) Thus, short assignments are rare (only 5% leave for less than a year). Worldwide, 65% of expatriates leave as a couple and 35% alone. Another 26% move to another country while they still have dependent children. " It is precisely this point that we would like to address here : expatriates leaving with their families for several years. For the best, by avoiding as much as possible the problems of a life that is sometimes very different from that of one's country of origin. One of the solutions lies in the preservation of certain "assets" that will act as protective and reassuring hulls throughout this magnificent adventure. Explanation below.
There is often a step between "dreaming" and decided to go. But in many cases, it is not your choice, but your employer's decision to relocate your workplace abroad. Of course, husband/wife and children are included in the equation.
After the shock, reason (re)takes over quickly, making you feel the need to PLAN, PROVIDE, this new life in order to land there smoothly, without collateral damage. The beginning of the administrative side with it the – primordial – question of health coverage.
Because, if you are covered by your employer, what about your family? And even for yourselves, what happens the day you are dismissed or decide to opt for a new job in the host country? Are you then choosing local insurance that is often either too expensive or offers coverage far below that of your country of residence, or both? Why should you give up some of the certainties/habits of your country of residence? Many expatriates experience this "charge mentale" before and/or during their stay. And yet, it can be avoided!
For us, the solution lies in the choice of a single insurance policy for you and your family. An insurance that follow you throughout your life thanks to its worldwide coverage and offering you the guarantee of total care, whatever your problem, your country of expatriation/residence or your medical history. With OPAL, everything is covered (including ophthalmology, dentistry, etc.), with no deductible in a single package, for you, your husband/wife and your children.
Because giving up what you've got should not be part of the equation, with – in the worst case – forcing you to return home because you haven't opted for good coverage.